Multi Collagen Powder 10.6 oz
Regular price
Sale price
$40.98
Unit price
per
Sale
Sold out
5 TYPES OF COLLAGEN HYDROLYSATE FOR THE BEST RESULTS: You get 5 types of grass fed bovine collagen (Types I, II, III, V, X) for unmatched results. We only use the finest grass-fed, pasture-raised bovine collagen without using any hormones, chemicals or antibiotics. Our collagen has been specially hydrolyzed into tiny particles, so it is in the most bioavailable form for optimal digestion and absorption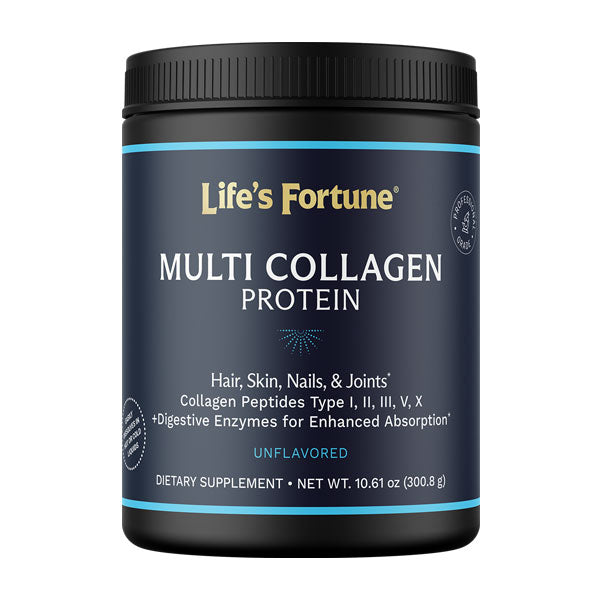 10% SAVINGS ON ALL SUBSCRIPTIONS

FREE SHIPPING ON ALL ORDERS $50+

90-DAY MONEY BACK GUARANTEED
A Fortune In Life Is good Health!
Choose Life's Fortune Vitamins & Supplements For Better Health And Energy.
Thicker hair and nails
I liked that this Collagen dissolved well in my beverages. Ive tried other brands and theyve clumped up on the spoon as soon as I stirred it into my beverages or soups. I just finished this product getting ready to make another purchase.
Lo recomiendo es muy bueno
Es muy bueno para los huesos lo recomiendo
this works
I have struggled for "years" with pitiful fingernails. I have tried hundreds of solutions.. This is the FIRST one to actually work and now my finger nails are growing long, strong and beautiful.. I wish I would have discovered this years and hundreds of dollars ago..
Highly recommend!! 5?
Best collagen out there! Check your labels and compare to this one and Lewis Labs win everytime!!
I believe in this brand BIG TIME!!
?????
Excellent product
Excellent product, use it on my coffee and doesn't change the flavor at all
It disolves completely and doesn't leave any lumps
Tryed In both hot and cold coffee drinks